What you can do
How you can help (after you have signed up)
What else can you do to Back Britain's Charities?
Email
If you have an email list or an e-newsletter you have a powerful tool at your disposal. If you think the people on your list or your newsletter subscribers might be concerned about this issue, please send them a stand alone email or include an item in your regular bulletin asking them to sign up for the campaign.  Please link to the sign up page: http://backbritainscharities.org.uk/back-the-campaign/
Show your support with a campaign graphic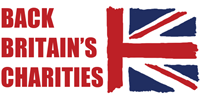 Download the official campaign logo and campaign illustrations for your website, blog or newsletter (various sizes available).
Social media
If you are on Twitter, Facebook or LinkedIn please spare a moment to tell your contacts that you have signed up and encourage them to do the same (and link back to the sign up page).
Follow @BackingCharity for campaign updates and #backingcharity hashtag for wider debate around the campaign.
Need help or want to share your campaign ideas?
Please use the comment section below to share your tips or ask questions. Alternatively drop an email to contact@backbritainscharities.org.uk
---