Keep on Running - why do people run to fundraise?
Posted: April 24, 2014
Filed under:
Uncategorized
Last weekend thousands of runners hit the streets of London to raise money for good causes, including Gareth Vidler from Drakes Plumbing Supplies, who ran in support of Macmillan Cancer Support. CAF's Campaigns Manager Steve Clapperton interviewed Gareth to find out a little more about what inspired him to lace up his trainers…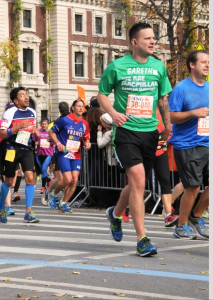 What made you decide to get involved in running marathons to raise money for charity?
I have always been very keen on sport and played a lot of Saturday and Sunday park football. I witnessed a good friend of mine break his leg and decided that, with a young family, it was time to give up football. But I also wanted to make sure I kept fit so I signed up for the "Run to the Beat" half marathon. While I was training for that I entered myself into lots of local 10k runs and some further afield, travelling as far as Canvey Island. After I had run the half marathon I knew I definitely caught the running bug and wanted more of that.
How do you decide which charities to run for?
I follow a lot of runners on Twitter and at the time my decision to run a marathon, the New York Marathon was taking places so I contacted Hospice in the Weald to see if this was something they had in their fundraising programme. I had previously jumped out of a plane at 10,000 ft and raised about £800 doing that for them. They didn't have any marathon places so I then contacted Macmillan Cancer Support and they were happy to offer me a place in their running team.
I will be honest and say that my family has never been affected by cancer, but I have heard of the excellent work that Macmillan does and before I ran I attended an emotional evening, as Anna Watkins (Olympic rower) gave a speech explaining how Macmillan helped her father-in-law in his fight against cancer.
What has been the greatest challenge you've faced during a marathon so far?
Until you run a marathon I don't think you can completely understand how dark a place you can go too. New York made me an emotional wreck. Not just the fact that you are in this great city running one of the best marathons in the world, but also that hundreds of thousands of people have come out to support you and call your name. My wife and children couldn't come with me on that journey but I took my mum with me as she had never travelled anywhere like that before.
I knew she was waiting at mile 23 for me at the Macmillan cheer point and I remember thinking "I just want to see my mum" and that is what I needed to get me over the line. It was then that you start thinking about why you're doing it. Reading the vests of people around you helps as well as there are so many charities being supported.
One thing that really stands out for me in London is the last 1 mile and 385 yards as at the Macmillan pasta party they had said that if you see a fellow Macmillan runner struggling, a simple tap on the shoulder can spur someone on. At the 25 mile marker I noticed a Macmillan runner walking so I went over to him and said that I think we should run over the line together which we did and he said to me afterwards that it was me that got him over the line as he was really struggling. I needed him as much as he needed me and that is what a marathon can do to you and for you!
When you're running do you find yourself thinking about the cause that you are running in support of?
Definitely! When you need that extra push then you need those thoughts to give you a reason to carry on. As I mentioned there are so many charities that you can't help but see vests with pictures of family members on and that does help. This can be from grandparents to children, and having a young family I know how special they are to me so for those that have lost young family members it can mean that much more.
What kind of reception do you get from your friends, family and the public?
My friends, family and colleagues have been superb in everything I have done in raising money and hearing me talk about the running all day long! It has become a bit of a standing joke at work that they ask me if I've ever run a marathon as I don't talk about it much! I had a huge target of £5300 to reach for all three marathons and I managed that inside 10 months. I wouldn't have been able to do it without their support, and when I put together my "Black Tie Charity Evening" it was friends and family that came and supported it. We made £1600 that night evening.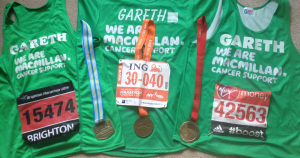 Do you feel a difference between running and running in support of a charity?
My marathon running has been charity orientated and although I have now joined a running club (Tunbridge Wells Harriers) I expect it to stay that way. I see the marathon distance as a challenge still. I'm the sort of person that needs a target to aim for and that is why the fundraising appealed so much.
Do you have any plans to run to raise more money in the future?
I do indeed. I have entered the ballot for London 2015 and I am also contacting Macmillan about running the Paris Marathon in 2015. That would mean two marathons inside two weeks this time so perhaps I could squeeze another one in between! I am also tempted by the London to Brighton (62 miles) ultra run but that is something for the future. The running bug has got me and so has the fundraising bug!
---